Bar Admissions Services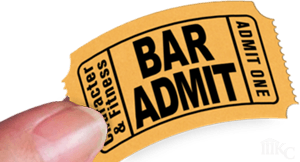 "Attorneys who represent themselves have fools for clients."
This is even more true of applicants for admission to the bar.  If full-fledged lawyers would be foolish to represent themselves, those who aspire to join their ranks should be especially reluctant to do so.
Those who rush through bar applications without consulting an attorney on troublesome character issues have only themselves to blame for a multitude of problems arising thereafter.  You simply cannot charm your way through character interviews or subsequent hearings.
Considering all that you have invested in your career, you owe it to yourself to seek the advice of an attorney with experience in guiding applicants through character and fitness reviews.
  
 

Law School Application Assistance


A failure to properly answer questions on your law school application may jeopardize your career before it even starts. Rather than waste three years of your life, a few hours of consultation on troublesome character issues can help you make the required disclosures and preserve your credibility with the admissions committee. If you later discover an error or omission in your application, most schools let their students supplement with additional disclosures long after enrollment, but you should consult with experienced counsel when doing so.
 
 
 
 
 
 

Bar Application Assistance


Rushing through the application process will not hasten your admission to the bar.  If you are concerned about certain questions posed, or how best to respond to sensitive issues, you would be smart to consult with an attorney.
 
 
 
 
 
 

Personal Interview


This is more than a mere formality.  Instead of "winging it" through this interview, consult with us on a strategy designed to address issues of concern without hurting your chances of admission.
 
 
 
 
 
 

Character

Committee Hearings


If a member of the Character Committee raises concerns over your application, you would be foolish to attend a hearing by yourself.  In many cases, members of the character committee will expect you to take the case seriously enough to engage the services of an attorney with experience in character and fitness reviews.
 
 
 
 
 
 

Hearings Before the Board of Law Examiners


After the Character Committee makes its recommendation, the Board may hold a hearing of its own before a recommendation to the Court of Appeals of Maryland. Like any hearing, an applicant whose character or fitness has been called into question should retain experienced counsel.
 
 
 
 
 
 

Court of Appeals Representation


In some cases, you may need to take your case to Maryland's highest court to secure admission to the bar.  Because this Court has the last word on the issue, you need the services of an attorney who has briefed and argued cases before this Court to advocate for your admission.