Irwin R. Kramer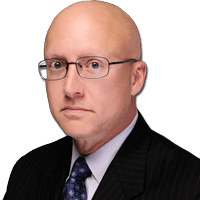 A former law professor who has lectured to thousands of bar candidates nationwide, Irwin Kramer has devoted a large part of his career to supporting the careers of law students, bar applicants and young lawyers.
Taking a personal interest in the success of his clients, Irwin regularly assists applicants in responding to challenging items on character questionnaires, crafting key disclosures to avoid future problems, and advocating for their admission before character committees throughout Maryland and the District of Columbia.
A proud member of the bar in both jurisdictions, Irwin is the managing partner of the AV-rated litigation firm of Kramer & Connolly, where he has served as lead counsel on behalf of Fortune 500 companies, insurance carriers, and businesses throughout the world in complex civil lawsuits, commercial and real estate cases, intellectual property and media law, class action lawsuits, serious personal injury, D&O cases and business disputes.  Combined with significant trial and appellate experience in state and federal courts, Irwin's law firm management experience gives him an appreciation for the pressures of law practice and the ethical issues confronting attorneys on a daily basis.  Thus, in addition to his work with bar applicants, Irwin regularly represents his fellow attorneys in professional malpractice and disciplinary matters.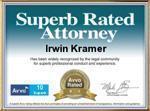 Profiled in Who's Who in America and in A.M. Best's Directory of Recommended Insurance Attorneys, Irwin has taught at some of the most prestigious law schools in the nation, and continues to publish and to lecture nationally on trial advocacy and legal ethics. Dedicated to making the law "user-friendly" for those who must live by it, Irwin founded The Legal Television Network, where he produces features designed to enhance public access to legal information. Honored by the Maryland Bar Foundation with its Award for Legal Excellence in The Advancement of Public Understanding of the Law, Irwin has also hosted legal programs on C-SPAN, and appears regularly as a television legal analyst.
After graduating summa cum laude from Towson University, Irwin earned his Juris Doctor with high honors from the University of Maryland School of Law, where he won the school's moot court championship and was inducted into the Order of the Coif for his high academic standing. He received a Master of Laws degree from Columbia University School of Law and served as a Vice President of the Columbia Law School Alumni Association of Washington, D.C. In addition to the Maryland and DC Bars, Irwin is a member of the bar in several federal courts and the Bar of the Supreme Court of the United States.